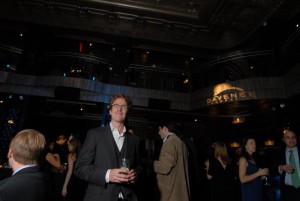 The Dave Nee Foundation depends on its many volunteers to support the programming and fundraising activities of our charity. If you would like to volunteer to help the Dave Nee Foundation or become a Host Committee member for our next event, please contact Rachael Barrett at rbarrett@daveneefoundation.org.
We thank you for your continued support and interest.
2012 Gala Host Committee and Volunteers
The Dave Nee Foundation gratefully acknowledges the support and leadership of the following individuals. Your commitment to the Foundation is deeply appreciated.
Pierre and Jordan Bastien
Allison B. Black
Jay and Nina Bliley
Mary Bradley
Mike Cardosa
W. Brian Casebolt
Lara Chassin
Christa Clay
Michael and Meredith Cook
Jeff Cooper
Robert and Karina Dykes
Ben and Lizzie Fishman
Lauren Frank
Adam Greenhut
Jay and Stephanie Gromek
Rachel Gupta
Jay and Dara Hanlon
Tessa Harvey
Aaron and Katie Hood
Jon and Jeni Howe
Temp and Kerry Keller
Richard and Caroline Frank Lapidus
Josephine Lau
Curtis and Kacey LeGeyt
Tara Leininger
Cariad Farber Lippman
Ashley Ma
Trevor MacDermid
Starling Marshall
Liliana Montes
Shaun E. Murphy
Sinna Nasseri
Matthew Nelson
Jennafer Newberry
Stephanie Owens
Neeraj Patel
Michael Pryor and Ruth Purvin Dunn
Niki Rees
Charles Ricciardelli
Christopher Ross
Aidan Donnelley Rowley
Jamie and Teebie Saunders
Brian and Stefanie Schmidt
Sogol Somekh
Victor Shafor and Aviva Stanoff
Bryn Sparkler
Rachel Sparkler
Kasey Spoonamore, M.D.
James and Kathryn Stanford
Mike and Christine Stanitski
George R. Trumbull IV
Richard and Julia Vermillion
Dean Vetsikas
James and Elizabeth Wilder
Blanka Wolfe
Eva Wong
Gregory Xethalis
Sabrina Yohai
2011 Gala Host Committee and Volunteers
Mike Cardosa
Lara Chassin
Jeffrey Cooper
Matthew del Turco
Rachel Dooley
Kara Friedman
Abigail Gaunt
Adam Greenhut
Jay C. Hanlon
Caroline Frank Lapidus and Richard Lapidus
Liliana Montes
Brian Muldrew
Kathryn Beaumont Murphy
Sinna Nasseri
Michael Pryor
Niki Rees
Teebie Bunn Saunders
Brian & Stefanie Schmidt
Victor Shafor & Aviva Stanoff
Dana Smith
Sogol Somekh
Bryn Sparkler
Rachel Sparkler
Mike Stanitski
Amy Stoner
Julia & Richard Vermillion
Samantha Warshauer
Eva Wong
2010 Gala Host Committee
Mike Cardosa
Rachel Dooley
Annie Farrenkopf
Ben Fishman
Abby Gaunt
Adam Greenhut
Rachel Gupta
Abby Kagle
Rachel Kleinman
Richard Lapidus
Neeraj Patel
Charlie Ricciardelli
Teebie Bunn Saunders
Rachel Sparkler
Samantha Warshauer
Eva Wong
Greg Xethalis
2010 Volunteers
Tara Leininger
Trevor MacDermid
Jill Ashley Park
Kris Park
Niki Rees
Nadia Thursfield
2009 Gala Host Committee
Anne Buckman
Mike Cardosa
Joyce Chang
Suzanne Dance
Rachel Dooley
Ben Fishman
Kacey Foster
Caroline Frank
Lauren Frank
Abby Gaunt
Wally and Charlie Graham
Jon and Jeni Howe
Abby Kagle
Rachel Kleinman
Richard Lapidus
Charlie Ricciardelli
Rachel Sparkler
George R. Trumbill IV
Greg Xethalis
2009 Volunteers
Juliette Berg
Tara Leininger
Alexia LaSalle
Niki Rees
Nadia Thursfield