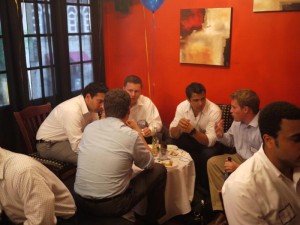 The Dave Nee Foundation's Annual Law Firm Challenge Trivia Night was held July 19th at Black Finn in Manhattan. With Trivia Tryst dishing out some tough law questions (e.g. Name the five current Supreme Court Justices who were appointed by Republican Presidents [answer below]), those in attendance — from Partners to Summer Law Associates — all enjoyed an exciting and fun evening while benefitting a great cause. In addition to fiercely competing for bragging rights, the participants also learned about the prevalence of depression among law students and lawyers and the resources available to those in need. The roster of participants was a "Who's Who" of the nation's top law firms: Latham & Watkins, Katten Muchin Rosenman, O'Melveny & Myers, Cravath, Swaine & Moore, Anderson Kill, Quinn Emmanuel, and a team of Fordham Law alumni joined in the fun and a good time was had by all.
The "Let's Get Quizzical" Team from Latham & Watkins were the winners of the event and took home the Grand Prize of a one-hour complimentary happy hour for fifty people at Black Finn, as well as a $100 gift certificate to McFadden's. Not wanting anyone to go home empty handed, prizes were also given to the team with the best name (The "NeeJerks" Team also from Latham & Watkins) and a couple of door prizes.
The Dave Nee Foundation would like to thank all firms and individuals who sponsored a team. We would also like to thank Lauren Predmore at Black Finn and Rachel Arbeit and Bryce Galen from Trivia Tryst. Special thanks go to those bars and restaurants who donated prizes, including Black Finn, Traffic NYC, Turtle Bay NYC and McFadden's. The event would not have been as successful without your help and support! Given the success of this summer's Trivia Night, there's already talk of a Trivia Night Re-Match, so stay tuned!
Trivia Answer: Kennedy (appointed by Reagan), Alito (appointed by Bush II), Roberts (appointed by Bush II), Scalia (appointed by Reagan), and Thomas (appointed by Bush I)