The Dave Nee Foundation is pleased to announce that former Senator Gordon Smith will receive the Foundation's fourth annual Ray of Light Award to be presented at our Gala, "Night of the Imperial Dragon," on Friday, November 2, 2012 at Capitale in New York City.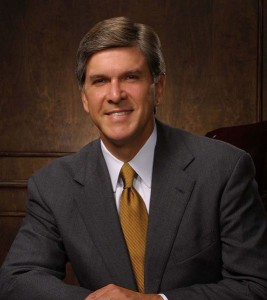 The Ray of Light Award recognizes outstanding contributors to the field of mental health, suicide prevention and depression awareness.  Senator Smith's tireless leadership in improving access to quality mental health services and his deep-rooted commitment to developing and protecting suicide prevention and other mental health programs—born out of his own tragic experience of his beloved son's suicide—mirror the goals and efforts of the Dave Nee Foundation and are thus richly deserving of this award.
Gordon H. Smith, is a former United States Senator and businessman from the state of Oregon. A Republican, he served two terms in the Senate. Born in Eastern Oregon, Smith was raised there and in Maryland before attending Brigham Young University and Southwestern University School of Law. Prior to election to the U.S. Senate, he served in the Oregon State Senate including one session as President of Oregon's State Senate in 1995. In 2009, he was named as President of the National Association of Broadcasters. Smith wrote a book entitled Remembering Garrett, One Family's Battle with a Child's Depression, based on the 1993 loss of his son Garrett, age 21, to suicide. In 2004, President George W. Bush signed the Garrett Lee Smith Memorial Act, authorizing $82 million for suicide-prevention and awareness programs at colleges.
The Dave Nee Foundation is grateful for Senator Smith's longstanding leadership in expanding youth suicide prevention efforts, legislating for mental health parity, and protecting access to mental health services for all those who need it.  His ability to turn great personal tragedy into a source of hope for so many others inspires those of us at the Dave Nee Foundation every day, and we are honored to commend Senator Gordon Smith for the wonderful work he has done by accepting the Ray of Light Award on November 2, 2012.