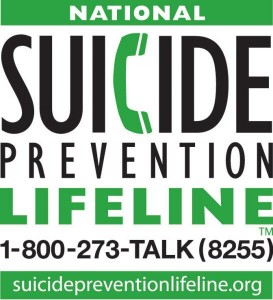 No matter what problems you are dealing with, we want to help you find a reason to keep living. By calling 1-800-273-TALK (8255) you'll be connected to a skilled, trained counselor at a crisis center in your area, anytime 24/7.
When you dial 1-800-273-TALK (8255), you are calling the crisis center in the Lifeline network closest to your location. After you call, you will hear a message saying you have reached the National Suicide Prevention Lifeline. You will hear hold music while your call is being routed. You will be helped by a skilled, trained crisis worker who will listen to your problems and will tell you about mental health services in your area. Your call is confidential and free.
If you feel you are in a crisis, whether or not you are thinking about killing yourself, please call the Lifeline. People have called us for help with substance abuse, economic worries, relationship and family problems, sexual orientation, illness, getting over abuse, depression, mental and physical illness, and even loneliness.
---
The Dave Nee Foundation is pleased to support Change Direction, a national effort to raise awareness about the signs that someone could be in emotional distress and how you can offer help and hope.  If everyone is more open and honest about mental health, we can prevent pain and suffering, and those in need will get the help they deserve.
---
If you notice these signs in yourself or a friend, you should immediately call 1-800-273-8355 (TALK), the National Suicide Prevention Lifeline, for a referral.
Threats to hurt or kill oneself, or talking about wanting to hurt or kill oneself
Talk or writing about suicide or death, when these actions are out of the ordinary for the person
Obtaining or looking for ways to kill oneself by seeking access to firearms, available pills, or other means
Giving away prized possessions and other personal things
 If you cannot reach this contact, go to an emergency room or mental health walk-in clinic, make sure you are not alone until professional help arrives and be sure that any firearms, alcohol, drugs or sharp objects that could be used in a suicide attempt are removed.
---
How do you tell if you or a friend might need some help?
The first thing to know is that seeking help is a sign of strength.  If you're worried or concerned, go with your gut, ask for help!  This is never a wrong decision.  Truly, seeing a professional can really help.
Need some help with offering help? The folks in Australia at R' U Ok have come up with some easy to follow suggestions. Check out their website.
Remember: Asking this question doesn't mean you have to have all the answers if the person you're worried about says "no". It's not about being an expert. It's about following some simple, caring steps.  
---
Recognizing the signs and symptoms of mental health disorders can help you or others to get the care that is needed.  Here are 12 Signs you might notice in yourself or a friend, that may be reason for concern.  They are certainly reason for you to talk with someone about what you're feeling:
Feelings of hopelessness or worthlessness, depressed mood, poor self esteem or guilt
Withdrawal from friends, family and activities that used to be fun
Changes in eating or sleeping patterns: Are you sleeping all the time? Or having trouble falling asleep? Are you gaining weight or never hungry?
Anger, rage, or craving for revenge: Sometimes people notice they are overreacting to criticism
Feeling tired or exhausted all of the time
Trouble concentrating, thinking, remember or making decisions: Are you suddenly struggling in school or at work? Sometimes academic or professional performance suffers and grades drop or work product worsens
Restless, irritable, agitated or anxious movements or behaviors
Regular crying
Neglect of personal care: Have you stopped caring about your appearance or stopped keeping up with your personal hygiene?
Reckless or impulsive behaviors: Are you drinking or using drugs excessively? Are you behaving unsafely in other ways?
Persistent physical symptoms such as headaches, digestive problems or chronic pain that do not respond to routine treatment
Thoughts about death or suicide (If you are worried a friend may be thinking about suicide, immediate action is critical.)
A large portion of students and attorneys have thoughts of suicide at some point.  If you are feeling this way, you are not alone.  But although these feelings can be common, there is no reason you have to suffer from them.  As soon as you start feeling out of the ordinary, you deserve to seek help.
There is not one way people look and feel when they have depression or a different mental health disorder.  Some people show behavioral changes – liking missing deadlines or avoiding all personal interactions – other might show physical signs, like slouched posture or constant headaches.  Mental health concerns can look different in men and women.  But, if you recognize any of the above 12 Signs for more than several days in yourself, a friend or a colleague, getting help is likely to be especially important and effective. Thanks to Active Minds (www.activeminds.org) for developing the 12 signs.
---
Getting help
Thinking you or someone you know might want to talk to a mental health professional?
Making the decision to talk to a mental health professional can be first step in getting needed help. Some factors to consider when making an initial appointment include but are not limited to location, cost, and expertise and training of the professional.
While the Dave Nee Foundation does not endorse any one particular mental health provider, we do encourage law students to consider the convenience of on campus counseling services when applicable. We also encourage law students and lawyers to consider their state lawyers assistance program.
We also support the therapy directories endorsed by the following national credentialing boards:
The National Board for Certified Counselors
The American Counseling Association
It may be helpful before entering into a therapeutic relationship with a mental health professional to indicate your needs and/or concerns.  For example, it would be appropriate to ask if the professional takes a sliding scale (reduced payment for services based on income), if the professional offers evening or weekend hours, and or what specialties or experience the professional has in working with you may be experiencing (grief, loss, self identity, depression, etc.).
Also, it is important to have realistic expectations of yourself, the mental health professional, and the therapeutic process. Rarely (if ever) will one 50-minute session be sufficient to resolve concerns. Initial sessions may be longer than 50 minutes as it is an opportunity for the mental health professional to understand the client and the clients concerns.
---
Helpful list of resources from CoLAP website: The American Bar Association Commission on Lawyer Assistance Programs (CoLAP) is pleased to direct you to other related sites of interest on the Internet. Many of these sites will also direct you to additional resources, and we hope you find these starting points useful. As with any resource, please use your own judgment when selecting your individual supports and information.
Suicide Prevention
Chemical Dependency and Self-Help Sites
Compulsive Gambling
Eating Disorders
Family Support
Mental Health Sites
Sexual Addiction and Compulsivity